The Interchain Stack opens the door to the world of blockchain
The Interchain Developer Academy is a self-paced, hands-on program that gets you ready to build your own application-specific blockchains and compete for jobs in the industry.
All you need is 3+ years of professional developer experience – no familiarity with blockchain technology is required. If you've worked with object-oriented programming languages you're already on your way!
You'll get expert instruction with the Interchain Stack from leading blockchain specialists and participate in a lively and supportive dev community – all fully funded by the Interchain Foundation!
7
Weeks of Study
800
Developers to Date
Why learn the Interchain Stack?
The interchain consists of independent, interconnected, application-specific blockchains, built using developer-friendly, modular components from the Cosmos SDK, and connected with the ground-breaking Inter-Blockchain Communication Protocol (IBC).
Using the Interchain Stack, developers build entirely autonomous, sovereign decentralized apps that can also easily interconnect with both traditional software and other blockchains. Developers can rely on a well-maintained, continuously updated product stack and a large, active, and supportive community.
All this has enormous implications for blockchain technology and means the demand for developers in the interchain will continue to rise. There are currently 100+ appchains allowing for secure, trust-minimized, cross-chain interoperability, with hundreds of dApps and services built on them.
"My experience with the Academy was extremely positive. I loved the content and the instructors. This was the most useful and informative free online web3 course I've seen. I've learned so much about IBC and the Cosmos SDK in such a short period of time. It allowed me to branch out and explore work in other places in the ecosystem, and it led directly to a full-time job offer at the Interchain Foundation, which I was delighted to accept!"
Serdar Turkmenafsar, IBC Engineer with Interchain GmbH | Interchain Developer Academy, Cohort 3 graduate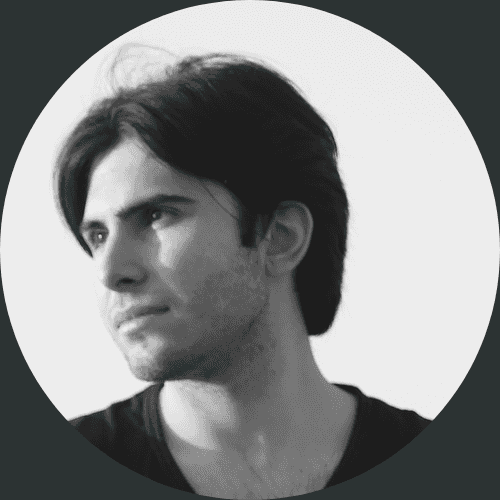 If this sounds like you, then register your interest for the next cohort!
How will you benefit?
FULLY FUNDED
Take the program for free
If you're accepted to the Academy, your place will be fully funded by the Interchain Foundation, so the program will be completely free of charge. All you need to do is commit the time to complete the program.
START YOUR OWN PROJECT
Gain the skills to start your own project
Whether you're interested in DeFi, NFTs, gaming, DAOs, social networks, or marketplaces, you can build entirely autonomous application-specific blockchains that can easily interconnect with the Interchain Stack.
Opt out of high transaction fees and network congestion, make your own rules, and scale for mainstream adoption while becoming part of an ever-growing ecosystem.
CERTIFICATION
Get certification from the Interchain Foundation 
Participants who complete the Interchain Developer Academy and pass the final exam get certified by the Interchain Foundation – the organization that stewards, maintains, funds, and advances the Interchain.
GET STARTED IN THE ECOSYSTEM
Join an industry-leading community
Developers in the Interchain are pioneers of a new era of blockchain technology. You'll be joining a fast-growing token economy built upon a secure and stable foundation.
"Great job. It was absolutely amazing. I previously had theoretical knowledge and by far not so deep. Every time I hit a wall I was thinking that the solution must be somewhere inside the learning materials. It was a very rewarding feeling – especially because it challenged me far out of my previous comfort zone. I learned a lot and was able to apply it at my company already. I also recommended it there for my colleagues to take a look. Fantastic work. Really well organized and support was also always there!"
Martin Schäffner | Interchain Developer Academy, Cohort 4 graduate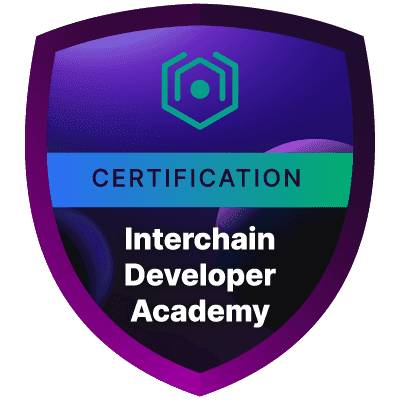 Is the Academy right for you?
You don't need to know anything about blockchain
…but you have at least three years of professional programming experience.
You can commit to 10 hours of work per week
…to complete the seven-week program.
You're passionate about learning about blockchain
…and pursuing a career with a blockchain company.
You'll need to complete and pass a screening test
…to evaluate your general knowledge of software development concepts and problem-solving skills.
"I would like to congratulate the team behind this because I'm impressed with the quality of the course. It's magic, if you follow it step by step, you encounter problems, but you also have the tools to confront them, and you learn without even realizing it. I was really busy the first few weeks, but the quality of the material motivated me to finish it anyway. I hope to use this knowledge wisely and represent Interchain well. Really, really impressive work!"
Juan Carlos Frutos Hernández | Interchain Developer Academy, Cohort 4 graduate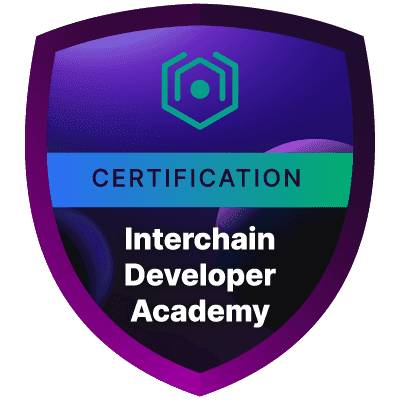 The skills you'll gain
Foundations
You'll learn the foundational principles of blockchain technology, to clarify some concepts for developers who haven't worked with this tech before or those who want a refresher.
We'll cover an overview of the Interchain Stack, including a comparison to other platforms, as well as working with ATOM, wallets, and staking – for developers who have worked with other protocols and SDKs.
Main concepts
Gaining knowledge of blockchain technology and cryptography in general
Delving into the concepts of the Cosmos SDK and building an application-specific chain using the Cosmos SDK
Using Ignite CLI to scaffold modules for a blockchain
Operating nodes and validating on a Cosmos SDK blockchain
Making blockchains interconnected and running relaying infrastructure between IBC-connected chains
Building front- and backend applications using CosmJS
Meet your instructors
The Interchain Developer Academy is delivered by expert instructors from our blockchain education partner, B9Lab. They've helped train more than 17,000 developers across 160 countries.
B9Lab Co-founder
Xavier Lepretre

Xavier is a software and infrastructure engineer. In the past 15 years, he has coded, deployed, customized, troubleshot, and supported various software systems. He has also guided, educated, taught, and coached customers across the world.
Blockchain Developer and Trainer
Anil Öner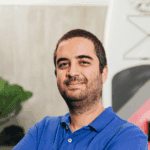 Anil is a self-taught, lifelong developer who has worked with many programming languages and in higher mathematics. Coming from a background of research projects in physics and computer-based simulations, he has since worked with embedded systems and cryptography, and is an experienced coder using the Cosmos SDK, Hyperledger Fabric, Hyperledger Sawtooth, Tezos, and EOSIO, among others.
Project Manager, Content Production
Citlali Mora Catlett

Citlali has substantial experience as a project manager and educational content creator for remote and in-person learning experiences targeted at students and professionals from around the world. Her work in web3 development has included delivering focused training on specific technology stacks and providing support to learners entirely new to blockchain.
Blockchain Developer and Trainer
Rob Hitchens

Rob has worked in blockchain technology since the early days and quickly recognized the disruptive potential of smart contracts and decentralized apps. He has worn many hats in his extensive IT career, including experience designing, constructing, implementing, and operating innovative software solutions, developing training programs, and supporting online education platforms.
Community Manager, Technical Writer
Andrew Critchley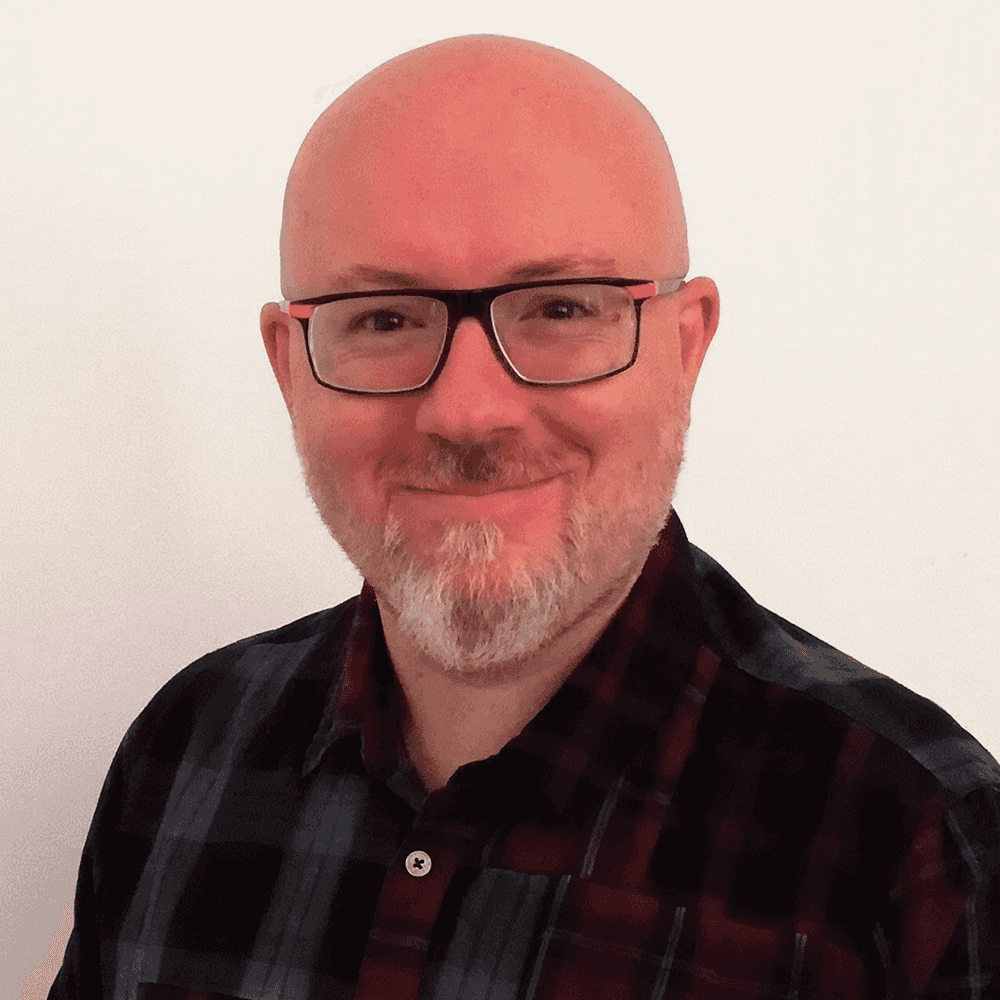 Andrew has been working creatively with words for more than 20 years, and as a technical writer he provides support to B9Lab's production content team. His experience as an online community manager began in the mobile telecommunications industry and predates the emergence of modern social media as a global cultural phenomenon.
Dean of Students
Marisol Moreira Lares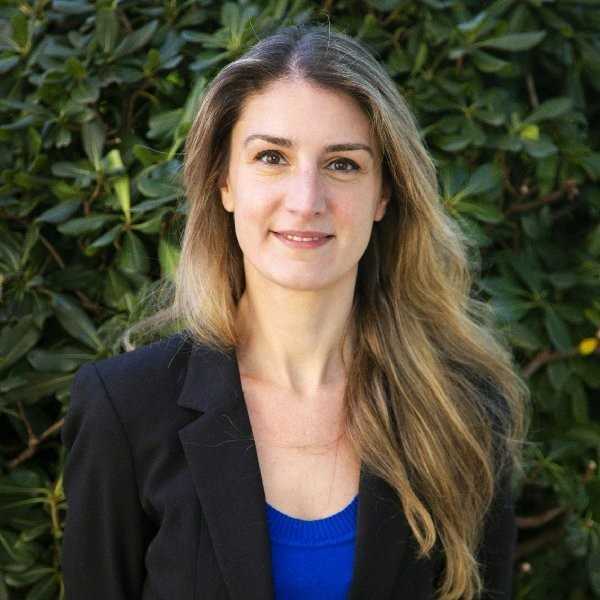 Sol has spent 15 years in education and project management helping learners get the most from their studies. As Dean of Students, she coordinates Academy activities from admission to certification, responds to participant queries, and leads data collection and evaluation efforts to ensure the program runs efficiently and has the context to always improve.
Remote
All content is delivered online. Theory, exercises, and guided coding activities are presented through written and recorded presentations.
Support
Learning online doesn't mean learning in isolation. Get guidance, personalized feedback, and technical assistance from our expert instructors.
Community
Join a Discord-based cohort of devs featuring live independent study groups, friendly chat, and news about opportunities in the interchain.
Fully funded by the Interchain Foundation
The Interchain Foundation (ICF) is a Swiss non-profit that funds, stewards, and advances the interchain.
Actively supporting and promoting development within the ecosystem, the Interchain Foundation plays an integral role in community-driven initiatives to promote innovation within the ecosystem.